Information about DNJ Sports Photography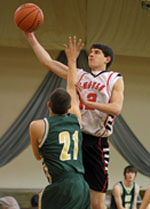 DNJ Sports Photography located in Endwell, NY is owned and operated by Photographer Jeff Miller. Jeff Miller has been taking great photographs for over 30 years, starting with film and then moving to digital. Jeff Miller regularly has his work published in various newspapers across New York State. In addition to sports photography, Jeff also offers High School Senior Pictures, family photography, product photography, school photography, sports team photography, sports league photography and individual sports portraits or as they are called sportraits. Because of Jeff's involvment with many of the school districts and leagues, Jeff can typically be found somewhere on the sidelines of a local sporting event.
Ordering Information: We try and make life easy, so there are a few ways to order.
Order your images Online via our Web site and pay with Visa, MasterCard or PayPal.
View the images online and then use our order form.
Look for us at your local sporting event and request your pictures.
You can request that we photograph specific players/teams via our contact information on our Contact Page.
Printing Information: All photographs are printed by a professional photo labs using only the highest quality materials to insure long lasting photo products.
Cropping and color correction: Please be aware that the images shown on the Web site are not cropped or edited, in most cases they are directly out of the camera. Before your order goes to print, your image will be cropped and enhanced to insure you receive the highest quality photographs.
Turn around time: Delivery time of your images will typically take 10-14 days. Pictures/posters/wall clings can be shipped to a different address rather than the billing address. This is great for gifts or for out of town relatives.
Digital Images: You are now able to purchase digital versions of all the images seen in the galleries. Images are burned on CD and then shipped to the address requested.
New! Sports Posters! We can create a unique sports poster (typically 16" x 20") of an individual athlete or of a whole team. The team posters make great coaches gifts! Check out some of our custom posters at our Posters Page.